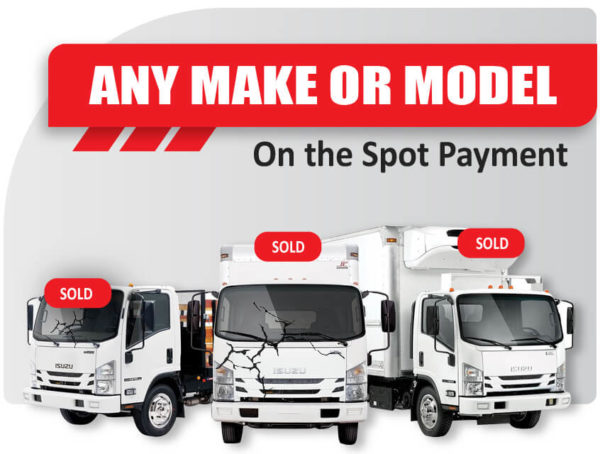 Truck Wreckers Mornington
It is very important for a truck owner to make the most of their auto even when it time has come. An inoperable, junk, scrap and old truck can still pay you top cash if you make the right decision of selling it to the reliable junk truck buyers. There are numerous car and truck wrecking businesses spread across all the suburbs of Melbourne.
When you find yourself stuck with an old, scrap, damaged or an accident-ridden crashed truck, it is not much you can do about it. Especially when it is obvious that the repairs would not do any good. The best option for you would be to still earn cash on seemingly scrap trucks. Truck Wreckers Mornington are buying all kinds of unwanted, flood-damaged, broken, junk or unregistered trucks. We buy old and unwanted trucks for wrecking and recycling.
Instead of letting your old truck sit in your garage it is only smart to give it up for recycling to the reliable companies. And in addition to this, earn some cash over it. Truck Wreckers Melbourne has to offer you top dollar cash as high as $12,999 for any vehicle that you do not wish to keep any longer.
FREE TRUCK EVALUATION – NO OBLIGATION
If you own a truck, 4WD, pickup, trailer or any other commercial vehicle, even fleets of it, and wish to sell it instantly, you can have our team give you an estimation for it. Truck Wreckers Mornington have a team of professional truck valuation experts that determine the value of your truck.
[[[["field30","contains","Part"]],[["email_to",null,"
[email protected]
"],["hide_fields","field26"]],"and"],[[["field30","contains","Cash"]],[["show_fields","field26"]],"and"]]
keyboard_arrow_leftPrevious
Check Nowkeyboard_arrow_right
Get Top Cash For Trucks in Mornington
Truck Wreckers Mornington has a team of experts that respond to all your queries without making you wait. You can call our customer care helpline and speak to our representatives. You can also speak to our experts who will suggest the best solutions. We also have an active email that allows you to contact us and request a quote via email. Just provide us the basic details of your vehicle and soon we respond back with our offer.
There is also a very simple online form where you can enter the important details that we ask for. Make sure that you tell us about the truck that you wish to sell. We also need to know the full details of your contact as well. Let us know where in Mornington you are located. Signing up using our online form is the quickest way to receive a cash quote. As soon as you submit the required details, you receive an instant cash quote.


Truck Wreckers Mornington
trucks service is basically scrap truck wreckers service in the Mornington area. Every scrap truck which is damaged, junk, rubbish and sitting in your driveway has some good parts. Engine, transmission, radiator, tires, diff, and suspension. All these parts have some value in term of dollars. So, we buy trucks to pull out these parts. And after having to analyze all truck through inspection, we figure out the best price to wreck every scrap truck. So, you get money for every wrecking every scrap truck.
Japanese Coaster, Dyna, and every model
Isuzu all models like NFR, NPR, FRR, FSK, NKR
Nissan all models like UD, MK, pk
Mercedes Benz Tipper and Unimog
Mitsubishi Canter, Fuso series
Hino all models
Best Scrap Truck Wreckers in Mornington
Truck Wreckers Mornington follows a routine that ensures all the environment-friendly truck wrecking routine. We do not just recycle all the damaged parts but also look for all the good working parts in a truck. Our main job as top truck wreckers in Mornington is to make sure that none of the resources go to waste.
All while making sure that the damaged bits are properly recycled. Sell your unwanted truck, vans, 4WDs, trailers, loaders and other special-purpose trucks to the expert truck wreckers in our yard.
Truck Wreckers Mornington has an easy online sign up that asks for all the basic details of your model. Enter all the necessary details of your contact as well. Make sure to also provide us with your full pick up address when you schedule a day for car removal.
Used Truck Buyers Mornington
It takes no more than a day for our truck removal team to access any location in Mornington. After we send you our cash quote, we wait for your approval on that. And as soon as you get on board with us, we let you pick a day for truck removal. In order to make the experience more convenient for our clients, we let you choose a day that you find most suitable. On the day that you pick, we send our team of truck removal experts to your doorstep with all equipment. They do not just take care of the towing, but they also make sure that you receive the full cash for your truck on the spot. Our truck removal service is absolutely free of cost. And our team does their best to make the experience completely free of hassle.
When we arrive, we ask to do a quick routine inspection of your unwanted truck. We do that just to confirm that its overall condition matches with its description, and it normally takes a few minutes. Soon after that, we get it ready for the towing. And while doing that one of our team members hand you the full value of your truck in cash. Once we pay you the full, we tow the truck away and bring it to one of the yards for its eco-friendly wrecking and recycling.